Page 2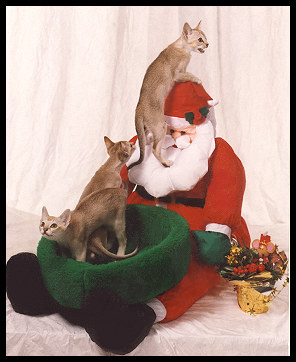 Looking for trouble and won't have a problem finding it.
From Innes Joswick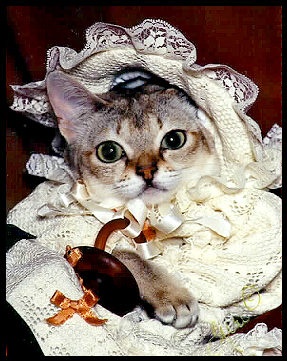 Haloween costumes are so scarey!
Sent by Jim Mendenhall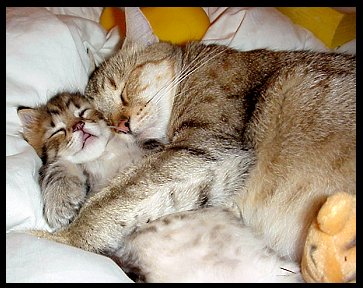 Singapura Wannabes - so close and yet so far!
(note the tabby markings)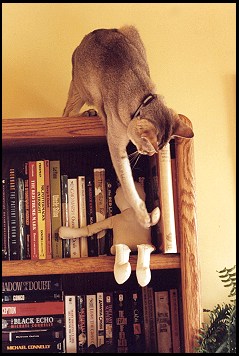 "Golly", is nothing safe?
Golly's photo Courtesy of Fran Irwin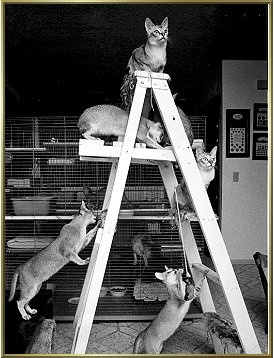 Doesn't everyone have an old ladder and cages
in the livingroom?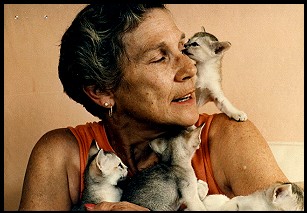 Professional eyelash cleaner!
My wife had been in bed trying to recover from brain surgery when her little cat set upon her pillow a newly caught chipmunk as if to say "you need to eat something to make you better". The Singapura did not hunt before nor after as best we know.
Courtesy of Fred Shaw

Here's one more story on our Singapura Emma: As we were adding on to this old house here in Stockbridge, the electricians, tilers, and plumbers had installed a hot tub. However,that night when she normally slept with us, she couldn't be found, so about 3 AM, my wife sat up in bed and said "I know where Emma is!!" Yes--we had to have them come out at 6 AM to tear the wall
down. Sure enough---she was there!!
From Fred Shaw
Meanwhile, the Singapuras continue to excell in quilt burrowing, whole-house wool weaving, and transporting through rifts in the space-time continuum. Also shape-shifting. How else could two tiny animals completely fill a Queen size bed so there is almost no room for humans?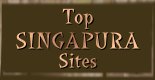 Site © T. Meadow
Graphics © Melody Amundson, Mariposa Creations